Note from Future John (Sept 2020): It seems Amazon has changed a lot of the links in the section below and the links don't take you to where they should. At some point I'll try and relink them all.
I thought I owned them all until I built a Caterham.
Sorry to all you non-builders, another technical post I'm afraid.
I'd been planning to do this post since finishing the build but I only finally got it over the line after being contacted by a number of prospective builders all asking me about tools. There'll also, hopefully, be another one soon about "consumables".
How Many Tools are Enough
Clearly any discussion about the number of tools needed is going to end up showing the total to be N+1, where N is the current number of tools you own. The same rule applies to all sorts of things… bikes (both kinds), t-shirts, books, car magazine subscriptions… and oddly enough – unicycles!
Having said that, I did have almost all of the essential tools, and probably could have got by without buying many at all. But I did end up buying a number of additional tools, of course! Some were just to help make things easier, some were to speed up the process. And some were because the one's I had were a bit tired and I liked the idea of an upgrade. In some cases, like a socket set, I was missing a few sockets and decided now was the time to buy afresh. One or two tools I bought and didn't turn out to be useful at all – but surprisingly few actually!
Is This List Definitive?
The discussion below is not meant to be definitive, exhaustive or for that matter definitively instructive. It's what I used and may give you food for thought if you're thinking about building a Caterham.
The tools listed are just for the build. As time goes on you (I) will need other tools like an oil-filter wrench and feeler gauges etc etc. But here goes for the build tools…
To the Tools
I come from the school of thought that says that:
At a wedding, there should be just one photo taken that includes everyone attending
It seems I think the same way about tools (I hope nobody was at the bar when it was taken)…
The image above contains all the main tools (I think). Of course I also have others that got used that are not shown but hopefully there's nothing major missing.
For instance I have a lot more screwdrivers, pliers, cutters, hammers, many spanners, etc etc, that are not shown. The ones that are shown are, I think, indicative of what's needed. I also tended to use socket sets instead of dedicated tools… I'd often grab the 1/4″ socket set for: allen-head bits, posi-head bits, small sockets. I always seemed to be pulling that set out and diving into it. The 1/4″ socket set (blue lidded socket set in the middle of the picture) was ideal because it had just about everything in it I needed and it was small enough to fit in, and around, all the tight spaces of the car. Having said that, if I had to have only one socket set then it would be a 1/2″ set in both metric and imperial.
The only major things missing from that picture above are the axel stands I used (highly recommended for small garages or where you want to get the car outside to work on)…
… and of course there was the engine hoist (borrowed)…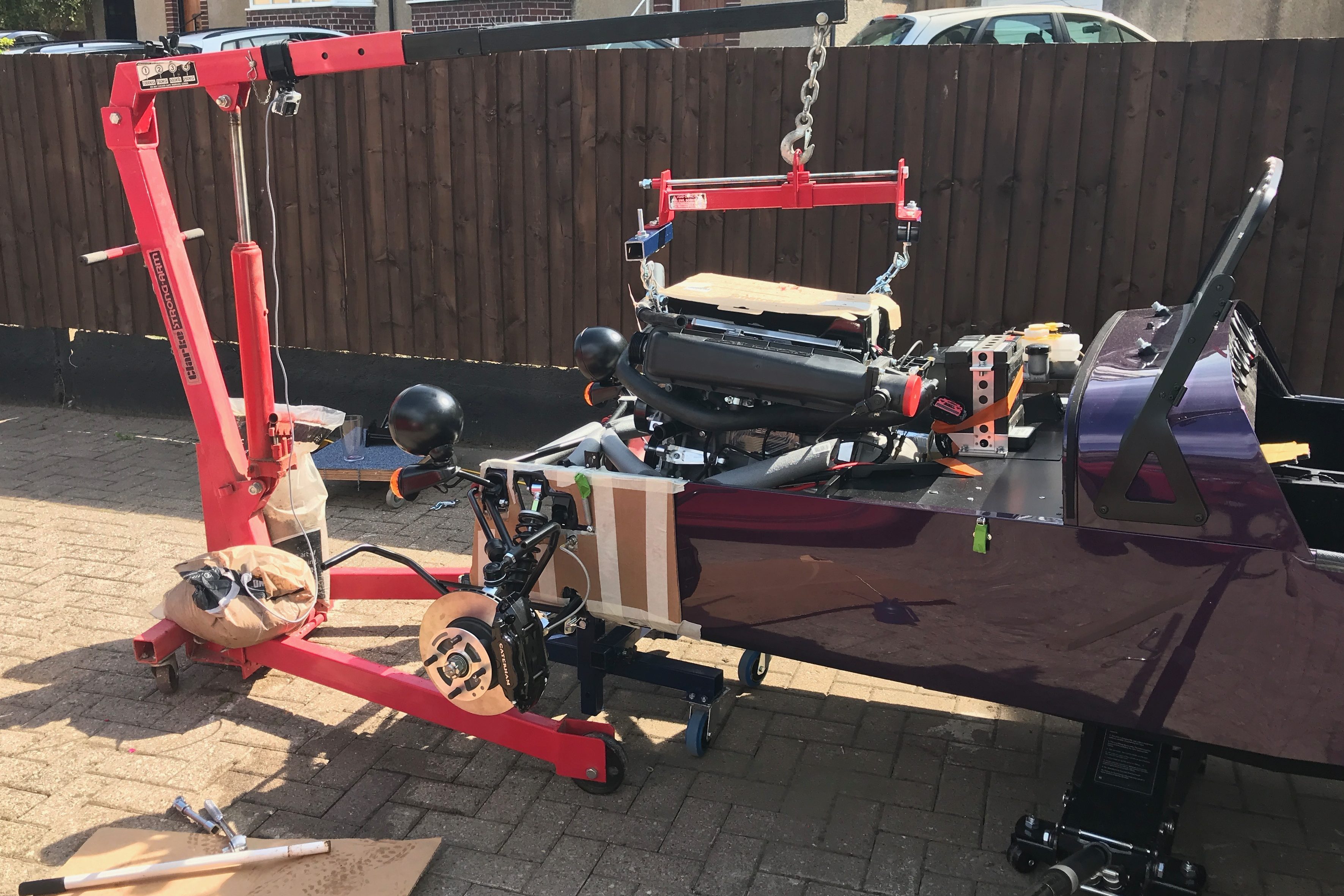 You may disagree with how I classify the following categories, it is just my opinion in the end.
I'll give a quick list and then discuss them in more detail below.
Essentials
Here's a list of the really useful stuff. If something isn't critical then it's listed elsewhere:
Allenkey sets
Axle Stands
Brake bleeding kit
Cordless Drill
Dolly
Dremel
Drill bits
Dust mask
Ear defenders
Engine hoist and leveller
Eye protection
Funnels
Files
G-clamps
Grease gun
Grips
Hacksaw
Hammers
Hole punches

Low profile Trolley Jack
Multi meter
Petrol can and/or jerry can
Pliers
Revolving Punch Pliers
Rivet tool
Scissors
Screwdrivers
Side Cutters
Socket Sets
Soldering Iron
Spanners
Special Sockets
Stanley knife and blades
Tape measure
Torch
Torque Wrench
Vice
You May Need These
Brake Piston/Caliper Windback Tool
Circlip pliers
Tap and die set
The Time Savers
The items below would sit squarely on my essentials list if I were to do the job again. That's not to say you need them, I just thought they saved me a bunch of time and they were worth the expense to me and I had many of them already anyway.
Crows Foot Spanner's
Creeper/Stool
Digital calipers
Drill Rivet Attachment
Hot Air Gun
Hot-glue Gun
Laser Measurer
Rotating Hole punch – highly recommended
Scissor or low profile bottle jack
Tweezers
The Trinkets
Some of the tools I bought were more to test things out than because I thought they were going to be really useful. I just wanted to see how that worked or it was clearly going overkil. I thought this list would be longer when I created this section…
Rivnut tool
Tablet in the garage (iPad – I don't recommend Android tablets!)
Wouldn't Recommend
Some stuff I bought I wouldn't recommend. Other's might find useful but I didn't.
Pipe bender – for brake pipes. Some people may find they have the time to bend brake pipes with a pipe bender but I ran out of patience. It was much more fiddly than the usual central heating 15mm pipe bending I've done for household plumbing. In the end I formed the rear brake lines around whatever cylindrical item I had to hand and that I thought would create the right radius.
Could Have Needed But Didn't
More Detail
Here's the list again in more details and with some comments. I can't guarantee that all the links will work forever but where they do I hope they're helpful – it's amazing how far you can go back and see your Amazon purchases, I bought some of those tools over 10 years ago.
[ Note: you can click on the pictures find out more info on Amazon ]
Essentials
Item
Comments
Link
Allenkey sets
Various sizes, lengths and config: loose, socket sets, t-bar set.

Special: 9.5mm (3/8″) for engine mounts. The only other odd allen-key that caused me problems was the diff fill-plug – short 14mm.

When I bought these they came in a different black case… but these seem to be what I bought…

Axle Stands
Min 3 regular but I used AJ Autos Mobile Axel Stand and replace steel wheels for "rubber" wheels
Mobile Axle Stands

And then I switched the steel wheels for these…

Brake bleeding kit
In the end I used Sealey VS820. I tried a few different brake bleeding options (mostly cheap and not so cheerful) but this did it for me in the end.
Cordless Drill
Any drill really, but cordless always works better for me and I'm caught in the Dewalt eco-system, so I use a Dewalt (DCD996) and which is my bestest of friends around the house
Dolly
4 wheeled home made dolly (40x50cm). Useful for moving engine/gearbox around on (not shown in the picture but it's in the blog in a few places). The dolly linked here is similar to the one I made.
Dremel
Used for grinding and cutting on many occasions. Through a quirk of history I actually own two Dremels. I keep one with the flexible extension shaft on it and the other just with a cutter installed. That's way overkill to have two Dremels but I think one (or similar) is essential to fettle bits that don't quite fit.

My Dremels are an older generation than the one linked.

Drill bits
Metric (1mm – 10mm) and imperial (1/16″ – 1/4″) (pretty essential for some of the rivet holes that need the right hole size or else the rivets won't fit or pull out)

Dust mask
For fibreglass cutting, at the least. I've got on well with the 3M mask linked, but your face shape may work better with something else.
Ear defenders
Sometimes used these when doing a lot of drilling/grinding. I use the Peltor ear defenders, your mileage may vary
Engine hoist and leveller
I'm going to call the leveller essential but you could get away with straps… but I didn't
Eye protection
Of course. I use all sorts of clear and tinted safety glasses… too many to link to.
Files
Various files. Needle files are very useful bot tricky to get at places
Funnels
For various fluids and one with long neck for fuel fill
G-clamps
I mainly use 6″ QuickGrips but also used some old school steel G-clamps.
Grease gun
Prop shaft universal joints
Grips
Slip Joint Pliers – I know them as "grips"
Hacksaw
Useful for creating custom allen keys or cutting down bolts I provide that were that are too long
Hammers
Leather/copper hammer was useful persuader
Hole punches
See optional leather/material punch
http://amzn.eu/4MVGT2A
Low profile Trolley Jack
The one I got just about worked. It struggles to get under the exhaust system on the RHS and needed a wooden block to lift the rear (using the cross member at rear of prop shaft tunnel)
Trolley Jack
Multi meter
Checking voltages and continuity
Petrol can and/or jerry can
Need something like 20l to prime system so something bigger than a 1G container can save some trips to the petrol station. Carrying petrol around is dangerous and I haven't bought any containers online so I'm not going to link to anything I haven't tested.
No Link
Pliers
Thin nosed most useful for me. The ones shown are electrical but any will do.

I do have mole-grips but try to avoid using them. They're fine for holding something that might get hot (when grinding perhaps) but I rarely use mole-grips.

Revolving Punch Pliers
2.0-4.5mm. Highly recommended for rear wing rubber trim etc
Rivet tool
A hand riveter is essential and I found a drill attachment to be a real time saver
Scissors
Amazed how often I was reaching for a set of scissors
Screwdrivers
Flat, posi and torx (wing mirrors)
Side Cutters
For wire, IVA trim, cutting misplaced zip-ties etc. The ones I have are electrical ones but they're good quality and I can't stand poor side cutters.
Socket Sets
1/2″ is essential in metric (not linked, there are too many options but going with a reputable brand would make sense to me).

Used the 1/4″ set most of all

3/8″ used less.

I do have a 3/4″ socket set but didn't need that in the end.

I also bought converter bits to allow me to put, for instance, a socket from one set onto a ratchet from another.

Soldering Iron

I use a simple 25W hobby iron
Spanners
Lots. I have many metric from 5mm up to big. 24mm for headlamp locking nut adjustment, thin 15mm Spanner and a 32mm for the oil lines.

Don't forget you often need two to do up a nut and bolt. Sometimes it works that a socket and a spanner will do but sometimes you need two sockets or two spanners. Doubles are only really needed for the common metric sizes – 10, 13, 15, 17 and 19.

I do own adjustable spanners, but I use them only as a last resort… and only use ring spanners where at all possible – much more reliable than adjustable or open ended spanners.

Individuals…

I

Not a complete set, but a start…

Special Sockets
41mm for rear hub nuts
Stanley knife and blades
Always useful
Tape measure
Tended to use digital calipers more to measure bolt lengths and the like, but sometimes need some extra reach
Torch
To be honest I used my iPhone light more often than not when reaching for a torch. But I did also have a rechargeable magnetic torch/bulkhead light.
Torque Wrench's – x 3
Norbar 13658 3/8-inch 8-50NmTorque Wrench
Norbar 13441 1/2-inch 20-100Nm Torque Wrench
Norbar 13445 1/2-Inch 60-300 Nm Torque Wrench
Obviously used the 20-100 the most but 8-50 useful for things like brake lines and 60-300 needed for rear hubs, though many leave those for PBC to complete.

Vice
Regular bench vice
No Link
You May Need These
| | | |
| --- | --- | --- |
| Item | Comments | Link |
| Brake windback tool | I ended up fiddling with the rear brakes a lot to try and improve feel and still not sure if applyig handbrake before bleeding was the cause. | |
| Circlip pliers | I took the rear brake calipers apart but can't think of another use | |
| Tap and die set | Metric. Questionable essential, but was for me. Seat belt harness but also when cutting down bolts to clean up occasional thread. | |
Time Savers
| | | |
| --- | --- | --- |
| Item | Comments | Link |
| Creeper/Stool | Not being the spring chicken I once was, I found this convertible creeper/stool to be invaluable whizzing around under the car and sitting on it when working on suspension stuff | |
| Crows Foot Spanner's | Metric and imperial. The metric ones came in handy a couple of times like the dry-sump to radiator oil lines. 32mm for oil lines | |
| Digital calipers | Cheap as chips these days and I think almost essential | |
| Hot Air Gun | I used one of these to shrink all the heat shrink – gotta be careful not to get too hot though. Otherwise a soldering iron works too. | |
| Hot-Glue Gun | Used hot glue to tack a few things down when I needed a light tack before final fixing. | |
| Rivet Drill attachment | Real time saver completing the riveting for the internal trim | |
| Laser Measurer | Found it useful instead of a tape measure but by no means essential. The one shown is a bluetooth version that I picked up for another project – Bluetooth is overkill | |
| Low Profile Scissor or Bottle jack | Sometimes needed to lift something where the trolley jack couldn't get to. I had an old scissor jack that I used along with a hydraulic scissor jack that I had to modify to fit under the rear A-frame (ground the recess at the top down). | |
| Multi-Tool | Leatherman Wave. I'm a fan of having something quick and dirty on my belt while I'm working in the garage. Gotta be careful not to butcher whatever I'm working on though, there's no substitute for the right tool. | |
| Quick Grips | QucikGrips useful when you only have one pair of hands. My Quick Grips are over 20 years old but I think the linked Irwin ones are the same. I also have the 18″ ones but don't think I used them on the Caterham build. | |
| Tweezers | Good for pulling wires out of holes in tubes | |
| Dremel Flexible Shaft | As mentioned elsewhere I had the luxury of two dremels one always fitted with the flexible extension | |
Trinkets
| | | |
| --- | --- | --- |
| Item | Comments | Link |
| Rivnut tool | Thought I'd use it more but only ended up using for the lambda sensor cable under the driver footwell and attaching the oil catch bottle to the frame. | |
| Tablet in the garage | Many times flitted between build blogs looking for a picture that helped me decipher the old build manual. New manual much better in that respect but as of mid 2018 the new manual is still not good enough to do the whole build. | I use iPads… other tablets are available. |
Wouldn't Recommend
| | | |
| --- | --- | --- |
| Item | Comments | Link |
| Pipe Bender | I thought I'd be able to create lovely neat rear brake pipe install with this but I didn't have the patience to "get the knack" of it. | |
Could Have Needed But Didn't
| | | |
| --- | --- | --- |
| Item | Comments | Link |
| Ball joint splitter | Might of needed this if I'd needed to strip back the front suspension but I got that right and so didn't need one. | |
So that's a lis of all the tools I used. I toured my garage a few times trying to think if there's anything I missed, and of course I added some items as I did those tours. But hopefully I got most of them.
Next up I hope to have a similar list of "consumables" – things like masking-tape, extra zip-ties, jubilee clips, rivnuts, adhesives etc etc.